Spark Arena Seating Chart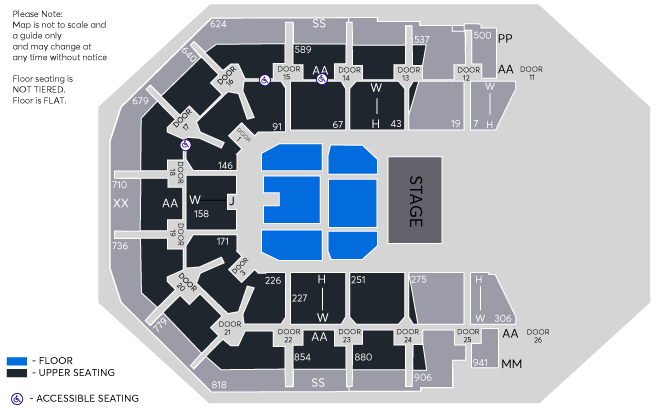 The Spark Arena situated in Auckland, can hold up to an impressive 12,000 guests which has made it one of New Zealand's best loved large indoor venues.
Due to it's major size, Spark Arena has a flexible layout which can be transformed for any of it's specific events, with this in mind no two seating arrangements are ever the same – giving it a new lease of life for it's visitors each and every time.
When the venue opens it's doors for live music, crowds gather for it's unbeatable concerts in the general admission floor area meaning music fans can get up close and personal to their favorite must-see artists as they take to the centre stage.
There's also plenty of options for seating as the Spark Arena design is arranged by splitting up the seating sections into numbers to make it easy to find your place in the crowd during the live concerts, sports and comedy events.
For it's wide range of different events taking place, Spark Arena plays the perfect host and creates a seating plan that is best suited for the night.
Therefore giving you the freedom to choose to experience upcoming bookings from any of the many different angles… whichever you decide, there's no doubt in mind that it will be a mindblowing and captivating evening of entertainment that will have you returning to the Spark Arena time and time again!
The views sweeping across the arena and the sounds from the crowd is something that cannot really be described but can only be experienced…
Select your seats for the time of your life for your desired go to event and get ready to create ever-lasting memories with fellow fans beside you!
NOTE: Different events may require different seating arrangements. When selecting your tickets double check the seating chart for the specific event layout.
You can reserve your ticket today and secure the best seats. Check out the Spark Arena schedule to see all upcoming events.
For all ticket policies and authenticity guarantees see the ticket information page.